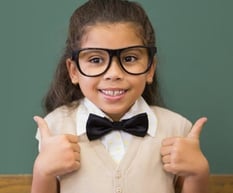 It is that time of year. Every nonprofit is asking for money. The annual fund is making its big push. The Development Office is taking advantage of the generous spirit of the holidays, and donors are hoping to give one more tax-deductible gift before midnight on December 31. So how do make your school's appeal letter stand out? Here are some hints:
A donor is a real person, call them by their name. As a non-public school, you have parents names stored in your donor management system. Hopefully, you also have your alumni and alumni parents names. If you use a generic salutation such as "Dear Parent, Dear Friend, or Dear Alumnus," you are saying, "I do not know you, but I want your money." This screams form letter! Make it personal. Thankfully, most good donor management systems make it easy to personalize your communications.
Grab the donors' interest with the first sentence. Bore them in your opening, and they will never read the rest of your appeal. However, peak their interest, and they will read on:

"Your support can change lives. How do I know? Our students told me:"
"John lost his father. Then his family lost their home, but he will not lose his school - because you cared."
An appeal must tell a brief but compelling story. Including an image that helps support your stated need is helpful. The adage "a picture is worth a thousand words" certainly applies in this situation. Now is the time to tug at the heartstrings. You can share facts, but it is emotions that opens the most pocketbooks in a charitable appeal.
Pull out appropriate quotes and place in a sidebar or box. Research shows that the average reader looks at images, reads picture captions, reads quotes and skims bold text. Be sure if that is all they do, they still hear your central message. If you capture their heart with captions, quotes and bold text, they may read your entire appeal!
Telling about someone who delivers your mission is especially important if the appeal is an annual fund appeal, where a portion of the funds will go towards operating costs. You cannot meet the need without staff, and your donors are often highly appreciative of the people who are on the front line ensuring an excellent education for the students. You have that teacher, who has cared for and taught generations. You have that alum, who is back in the classroom because they want to see that the next generation has the same wonderful experience they had.
Tell about someone who benefits from your mission – a student, who is thriving, a talent, that is blossoming, a group, that is giving back to the community. Share the story of a scholarship student, first in their family to be college bound, just accepted to Harvard. One of my all-time favorites was being able to share the story of a dear third grader who had a nickel left from her lunch money and gave it to the annual fund, because she wanted other kids to have wonderful teachers, like hers. The story of that generous young heart inspired many!
Connect the need to those you mentioned in #5 & #6 for these people are now real for your reader. Make sure the need is worthy of support. "Your support makes it possible for us to hire and retain teachers, like Ms. Carson, and teachers, like Mrs. Carson, inspire students, like the poets in our Creative Writing Club."
Tell the donor the difference they can make. Frame the good your school is doing as good made possible by the donor because it is true. Without your donors, tuition would not only have to cover all current school operating expenses, but it would also have to provide for future improvements and emergency contingencies. Without donors, you could only serve families of wealth, and many schools feel the good they offer should be available to any children who would benefit, regardless of family income.
Have a handwritten signature. Although it is tempting to simply insert an image of the signature in the letter file and print the letter, it is essential to hand sign each letter. This signifies that the communication is person to person: Dear Mr. and Mrs. Smith - - - Sincerely, Dr. Johnson.
Also, include a handwritten note on each appeal. Think of short comments like, "thank you for your past support" or "you make a real difference," or even "see you at the game." Why bother taking the extra time to add a handwritten note? Because support is about building a relationship: "We know you. We need you. We appreciate you." It is a little extra effort, but it can pay big dividends.
Tips one through ten are about making the donor feel like a hero. Each nonpublic school offers something unique, something worthy of support. Your school saw a need and your school came up with an effective way to meet that need. The donors gave you the dollars to do more, to make the benefits of an education at your school available to more people. Make them feel like a hero - because they are.
About the Author: Lari has served as a Director of Development, Director of Marketing and Communications, and Director of Admissions and Alumni Relations. She has been a one-person office and managed large staffs. She is currently a nonprofit consultant with clients across the nation.
©2017 Snowman Software